There are two genera of meadow katydids: Conocephalus species are called the smaller meadow katydids while Orchelimum species are known as the larger meadow katydids. Not too hard to figure out why. In reality, their size differences are slight, but the Orchelimum species tend to be more robust as well as a bit bigger than Conocephalus.

The least common species of smaller meadow katydids around here seems to be the Short-winged Meadow Katydid (Conocephalus brevipennis). As the name suggests, the wings are shorter than the body, which is no longer than 20 mm. This is a translucent green insect with brown wings and a brown stripe down the top. The female's ovipositor is straight and almost as long as the body.


Conocephalus brevipennis female
| | |
| --- | --- |
| Conocephalus fasciatus female | Conocephalus fasciatus male |
The Slender Meadow Katydid (Conocephalus fasciatus) is quite similar in appearance to the Short-winged, but it has long wings that extend well past the end of the abdomen. They even cover the female's ovipositor. Both of these species are delicate looking and about the same size. Their eye color can be a bit pinkish looking, but is usually tan.
| | |
| --- | --- |
| Conocephalus strictus female | Conocephalus strictus male |
By far our most common of the Conocephalus species is the Straight-lanced Meadow Katydid (C. strictus). This species is widespread and has a long-winged form, but I've only encountered short-winged individuals. They are usually green, but I've also seen a few brown males. There is a distinct brown stripe down the back that sometimes has white margins. The most impressive feature is the incredibly long and straight ovipositor of the female, for which the species is named. Males also have relatively long cerci (paired appendages at the end of the abdomen) compared to the other Conocephalus species. Straight-lanced Meadow Katydids usually have white eyes, but they can sometimes have a pinkish hue. This species is especially common in open fields, and when disturbed, they frequently stretch out clinging to a blade of grass and attempt to hide. It is a very successful strategy.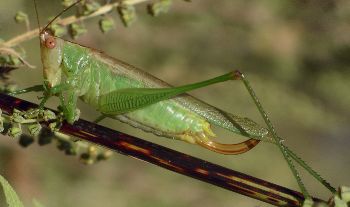 Orchelimum bullatum female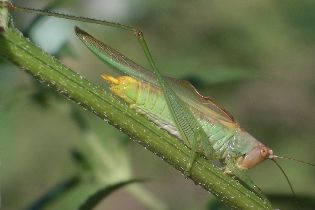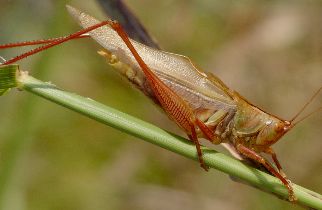 Orchelimum bullatum males: color variations
The Texas Meadow Katydid (Orchelimum bullatum) is one of the larger meadow katydids, and it really is a bit bigger, usually around 25-30 mm long. It is easy to tell our female Orchelimum species from Conocephalus species because the former have fairly short and curved ovipositors, while the latter have long and straight ones. Distinguishing features of the Texas Meadow Katydid are the wings extending beyond the abdomen, yellow to orange colored eyes, a yellow or tan face, and a yellow back end. Although usually green, this species can be tinged with red.
| | |
| --- | --- |
| Orchelimum silvaticum female | Orchelimum silvaticum male |
The most prevalent species of Orchelimum here is the Long-spurred Meadow Katydid (O. silvaticum). The common name comes from the shape of the male cerci (paired tail appendages). This species is 25-30 mm long, with wings that do not extend much past the end of the body. They often have orange or red eyes, which look very cool.
| | |
| --- | --- |
| Neobarrettia spinosa male | Neobarrettia spinosa female |
One more subfamily consists of the shield-backed katydids. These are predatory insects with reduced or absent wings. Our area has a number of species, and none is more fascinating than the Greater Arid-land Katydid (Neobarrettia spinosa). A better name would be "Red-eyed Devil" which has been proposed by someone with first-hand experience of this insect's behavior. This large and robust katydid (length is 35-50 mm) is aggressive when threatened and will display its short spotted hind wings, stick out its extremely spiny legs, and open its huge jaws. It will attempt to bite. The female's ovipositor is quite long and thick.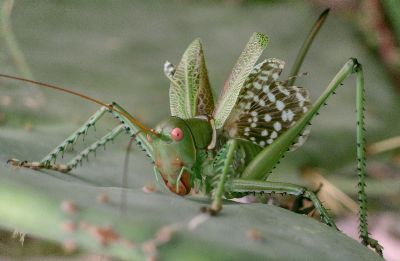 Neobarrettia spinosa female defensive display
The Greater Arid-land Katydid mainly hunts insects but will also feed on fruit and other plant material. They are not common every year, but when they occur they tend to stay low in trees and especially seem to prefer hanging around Prickly-pear Cactus (Opuntia sp.).
There are four other species of shield-backs in our area and they are all in the genus Pediodectes. I find them only occasionally. The most common species is Stevenson's Shieldback (Pediodectes stevensonii). It is brown with a distinctive white and black marked face. As might be expected of a wingless insect, it is mostly found on the ground, but will not hesitate to climb up rock walls and trees. Length is about 25 - 30 mm.
| | |
| --- | --- |
| Pediodectes stevensonii female | Pediodectes nigromarginatus female |
I've only found one adult Black-margined Shieldback (Pediodectes nigromarginatus), in a rocky scrub area. This female was about 30 mm long, brown, and had a large head and long hind legs. Unlike Stevenson's Shieldback, the pronotum of this species has well-defined ridges on the sides. The black sides that distinguish the nymph are not so obvious in the adult. The dark sides of the immature Black-margined Shieldback are easy to see, as shown below. I find these nymphs on low vegetation, especially in areas with tall grass, in the spring.
| | |
| --- | --- |
| Pediodectes nigromarginatus nymph | Pediodectes haldemani female |
Haldeman's Shieldback (Pediodectes haldemani) is a large and attractive green katydid. Length is about 35 mm and the pronotum is rounded, with easily recognized cream and black markings. This species occurs in the same areas as both Stevenson's Shieldback and the Greater Arid-land Katydid, and seems to prefer living near Prickly-pear Cactus.