By far our most common species in the false katydid subfamily is the Fork-tailed Bush Katydid (Scudderia furcata). Both nymphs and adults are frequently found in gardens, fields, and weedy areas, and they seem to be numerous every year, whether we have a lot of rain or very little. This species has fairly long and narrow wings (about 50 mm long); they fly readily when disturbed. There are other bush katydids that might be found in our area, but all of those that I've checked closely (the male "tail" is quite unique for each species) have been the same. In fact, the name comes from the forked shape of the dorsal abdominal process, which is what the tail part is called.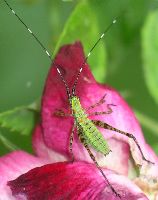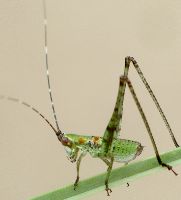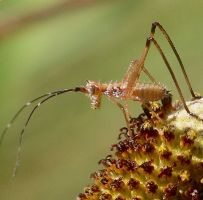 Scudderia furcata nymph early instars
Very young nymphs are sometimes confusing because they don't seem to be very katydid-like. This is especially true when they are viewed from above. As with many katydid nymphs, they often feed on flowers, and the easiest way to recognize even pollen-covered individuals is by their long black and white banded antennae. These bands do not completely disappear until the insects reach maturity.
| | |
| --- | --- |
| Scudderia furcata male nymph last instar | Scudderia furcata female nymph last instar |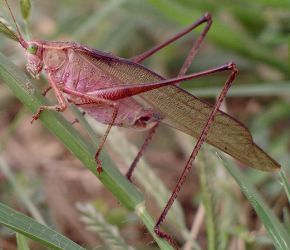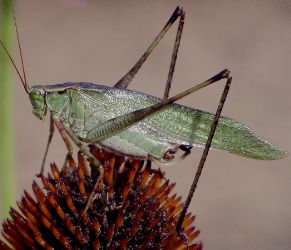 Scudderia furcata males: color variations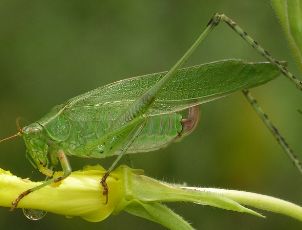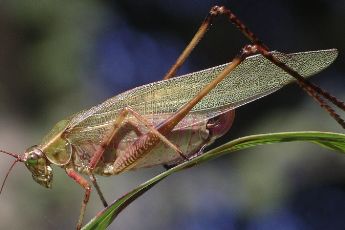 Scudderia furcata females: color variations
The usual color of the Fork-tailed Bush Katydid is bright green, but both genders may come in brownish or pinkish forms. The green ones may also have varying degrees of black markings, especially on their tops and legs. Even nymphs come in both green and brown varieties.
| | |
| --- | --- |
| Neoconocephalus triops nymphs | Neoconocephalus triops |
There is a whole subfamily called the cone-headed katydids, but I have only found one species in our area. The Broad-tipped Conehead (Neoconocephalus triops) is named for the width of its cone, which is located between the antennae. This species is rather large, measuring 50-60 mm, and they frequently fly off when disturbed. Since nymphs cannot fly away, they tend to use camouflage as a defense and will do a headstand when they feel threatened, most likely trying to mimic a piece of vegetation. Even young nymphs have the cone-shaped head, so they are easy to recognize.
| | |
| --- | --- |
| Neoconocephalus triops female | Neoconocephalus triops male |
Adult Broad-tipped Coneheads come in either brown (with orange jaws) or green. I've not seen many nymphs and those that I have found were all green with white stripes, but they probably also come in brown too. It might just be coincidence, but I seem to find more green females and more brown males. My sample is probably too small to be able to make any assumptions. I usually only encounter a handful of these insects every year, and many fly away before I can even get a good look at them.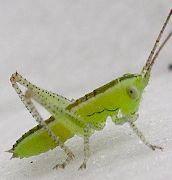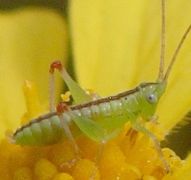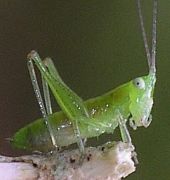 unidentified meadow katydid nymph early instars
| | |
| --- | --- |
| Conocephalus strictus nymphs: color variations | Orchelimum species nymph |
One rather large subfamily includes the meadow katydids. These are all smaller species, but they can be very numerous, especially in areas with tall grasses. I've had limited success identifying nymphs to genus and/or species, but they are fairly easy to recognize as meadow katydids. They all have the same angular look, with sort of thin tapering bodies, and their rather large eyes on a relatively big head give them a startled appearance. Even among katydids, which always have pretty lengthy antennae, the meadow katydid nymphs' antennae are amazingly long.