The scentless plant bugs are a small family, with just a few representatives in our area. They are generally quite visible, though, and some species are easy to recognize.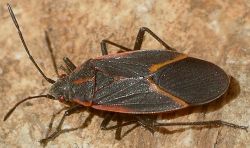 Boisea trivittata

The most well-known rhopalid is the Box Elder Bug (Boisea trivittata), which in the north tends to congregate in homes to hibernate for the winter. They are messy but harmless. Box Elder Bugs are not all that common here in Austin, even though their host plant, the Box Elder Tree (Acer negundo) is widespread. The only place I've seen these insects is near the Colorado River.

While the Box Elder Bug is not particularly numerous here, there are several other species that are very common. The rhopalids tend to feed on seeds and sometimes plants, but are rarely pests because they don't hurt garden plants. As the name "scentless plant bugs" implies, they have reduced scent glands, but this will not help much in identification because many other similar small bugs do not produce enough odor for human noses to detect either.


| | |
| --- | --- |
| Jadera haematoloma mating and nymphs | Jadera haematoloma mating |
Jadera haematoloma is known as the Red-shouldered Bug, Golden-rain Tree Bug, and Jadera Bug. This species feeds on the seeds of the Golden-rain Tree (Koelreuteria paniculata), but it also hosts on other plants, especially Balloonvine (Cardiospermum halicacabum). Where this vine is plentiful, the Red-shouldered Bugs can be incredibly numerous, with huge masses of adults and nymphs emerging on sunny mornings to warm up after cool nights. Adults are a dusty black color with red trimmings and about 8 mm long, while nymphs are mostly dull red. The eyes of the adults are red, too. When a single adult Jadera Bug is found, it is usually fully winged. However, in areas where there are large congregations, many individuals develop only partial or shortened wings.
| | |
| --- | --- |
| Harmostes species | Harmostes species |
A rhopalid that looks totally different from Jadera is in the genus Harmostes. We may have more than one species but there is quite a bit of color variation within a species, too. This insect is about 7 mm long and often found feeding in flowers. They are usually light green, but can be tan colored or a combination. They have a dark outline around the scutellum and males tend to have darker, and often red, markings. The light green and/or tan color along with clear wing membranes makes these bugs blend in well and they are usually pretty well camouflaged. Their hind femurs are slightly enlarged and have spines on the undersides, and the base segments of their antennae are also swollen.
| | |
| --- | --- |
| Liorhyssus hyalinus female | Liorhyssus hyalinus male |
Several species of rhopalids look a lot like seed bugs (lygaeidae) and one must look closely to tell them apart. Liorhyssus hyalinus is a 6 mm long bug with variable coloration. Females frequently have light colored patches on the sides of their abdomens; both genders can have reddish markings on their wings, might be either light or dark, and have any combination of colors on their pronotum. They feed on a variety of weeds, but I've seen their population soar on Cheese Mallow (Malva neglecta), a European weed. The eggs can be found in little bunches and the maroon colored nymphs feed in groups on the seeds.

Liorhyssus
hyalinus eggs

Liorhyssus hyalinus
nymphs
The most fascinating rhopalid, in my opinion, is Niesthrea louisianica. This species prefers mallows, and occurs on a variety of species in our area. They are most often found on the seed pods, and the nymphs and adults cluster together, with the older nymphs and adults hovering over the younger ones. The colors are outrageous. The nymphs look like they are dressed in harlequin court jester costumes, with a red and white mosaic pattern and orange highlights. The 6 mm adults vary considerably in their colors, but are always speckled and striped. They can be black and white, orange, or red and white, and have any combination of those colors. The legs are banded, often with black. Sometimes a population might have many similar looking adults, but then a mating pair will be so different that they barely appear to be the same species.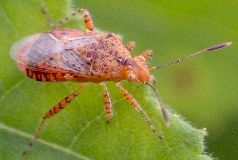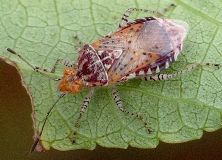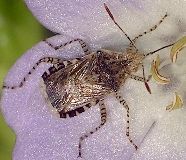 Niesthrea louisianica: color variations
There is a similar insect that has the same shape as Niesthrea, but is in the genus Arhyssus. It is a bit smaller and often mostly brown, with mottling over most of the body and legs. The color is quite variable and some individuals are red with a green abdomen. This color combination is usually just barely visible as a tinge to the brown, but sometimes it is striking. Arhyssus nymphs look less spectacular than Niesthrea and are not as partial to mallows as a host plant. One thing that seems to distinguish nymphs of this genus are the stripes on the wing pads, at least in late instars. A distinctive feature of adults is the pointed looking rear end. Females have a slightly rounded point while males have a very sharp looking one. In fact, the rear is just a little pointed, but the dark markings on the back give the impression that it is much more pronounced. These markings show through the clear wing membranes.

Niesthrea louisianica nymph

Arhyssus species
nymph

Arhyssus species