This hemipteran family used to be the second largest after Miridae, but recent taxonomic changes have split it into TEN different families. As my patience does not yet extend to learning all the recent changes, I am taking the easy way out and keeping all the former lygaeids together for simplicity. It is quite a diverse group and there is little that characterizes all the genera. They range from the big and colorful milkweed bugs to very tiny brown seed bugs that are rarely noticed at all. Most of the members of this family feed on plants, especially seeds, hence the common name for the family. A few species are predatory. One clue to determining members of Lygaeidae lies in the few pronounced large veins in the wing membrane.
| | |
| --- | --- |
| Oncopeltus fasciatus | Oncopeltus fasciatus eating caterpillar |
The most conspicuous species in our area are those that feed on milkweeds and have colorful patterns of orange and black to warn predators of their toxic diet. The Large Milkweed Bug (Oncopeltus fasciatus) is the most common and, as the name suggests, the largest species, usually being about 15 mm in length. The color ranges from gold to red, with a combination of yellow and orange being the most prevalent in many populations here. The nymphs are bright red and are gregarious when they are young, often feeding on the fleshy seed pods of various milkweed species. Although O. fasciatus is considered to be a plant feeder, it does not pass up an opportunistic meal of a dead caterpillar now and then. The one in the above photo is dining on a queen (Danaus gilippus) larva.
| | | |
| --- | --- | --- |
| Oncopeltus fasciatus nymphs | Oncopeltus sexmaculatus | Lygaeus kalmii |
Oncopeltus sexmaculatus is known as the Six-spotted Milkweed Bug, and can be numerous at times. Its habits are much the same as its larger cousin and it can be distinguished by the pattern of spots. It also has a white spot on the wing membrane that looks like a dab of paint.
There is one other orange and black bug and that is the Small Milkweed Bug (Lygaeus kalmii). This insect is noticeably smaller than the Oncopeltus species and also tends to feed on plants other plants besides milkweeds, especially those in the Compositae family, like thistles and goldenrod. L. kalmii has gray added to the orange and black, and it frequently, but not always, has a pair of white spots on the wing membrane. The texture of this bug is more felt-like while Oncopeltus species are smoother. People from areas where Box Elder Bugs are common cannot help but notice the superficial resemblance to those.
| | | |
| --- | --- | --- |
| Neacoryphus bicrucis | Neacoryphus lateralis | Ochrimnus mimulus |
I've not seen the White-crossed Seed Bug (Neacoryphus bicrucis) in Austin, but it could occur here. I have photographed it near Dallas. It is a handsome little bug, about 7 mm long, with red wings and pronotum on a black and gray base.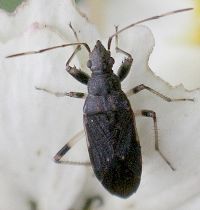 Perigenes similis

The white margins on the scutellum and wings provide the basis for the common name. In the same genus, Neacoryphus lateralis is not quite so brightly colored, but it does occur here in Austin.

Another bug with white margins is Ochrimnus mimulus. Rather small at about 5-6 mm in length, its markings usually give it away. As with many seed bugs, I only see them occasionally.

Perigenes similis is an elegant looking insect about 6 mm long. It black but not shiny. This is one of the seed bugs that has swollen front femurs that resemble those on damsel bugs or some assassin bugs. The enlarged leg segments even have spines on them.

Looking like a large version of P. similis, Cnemodus mavortius is usually found on the ground, racing around like a big ant. This species is matte black with white margins and about 7-8 mm long. They share similar features with damsel bugs and could be mistaken for them, but they are actually larger and usually more numerous. I've seen gatherings of up to six insects when they are mating.


| | | |
| --- | --- | --- |
| Cnemodus mavortius | Cnemodus mavortius mating | Myodocha serripes |
There can be no mistaking Myodocha serripes for any other species. The elongated neck is quite distinctive. This seed bug also has enlarged front femurs. The nymphs have lengthwise striped bodies but still feature the long neck. They are often found on or near the ground.
A good number of seed bugs are quite small and Nysius species are no exception. These 4 mm long insects resemble some kinds of rhopalids and it takes a little practice to distinguish them. As can be seen in the photo of a mating pair, males are much smaller than females.
| | |
| --- | --- |
| Nysius species | Geocoris species |
Another very minute insect, Geocoris species is at least partially predatory on insects. With a size between 3-4 mm, they are not easy to find and do not appear to be terribly common. They are commonly called big-eyed bugs.
With a name far longer than its 4 mm body size seems to warrant, Pseudopachybrachius species is another of the very small but intricately marked seed bugs with swollen front femurs.
| | | |
| --- | --- | --- |
| Pseudopachybrachius species | Neopamera bilobata | Phlegyas abbreviatus |
The pretty little Neopamera bilobata is common on some species of Vervain (Verbena sp.), especially once they go to seed. The intricate markings of the 4 mm long insects actually help them blend in with the ripening seed heads of the plants.
One of the smallest seed bugs I've been able to find is Phlegyas abbreviatus. It is a rather stout 3-4 mm long insect, with wings that do not cover the tip of its abdomen, hence the species name "abbreviatus."
A Zeridoneus species shows up in low vegetation or on the ground sometimes. It is also quite similar to several other species in being brown, small, and having swollen front femurs. It looks closest to Pseudopachybrachius but the legs are longer and the pronotum is shaped differently. Those are the kinds of small details that are involved in identifying this group.
| | |
| --- | --- |
| Zeridoneus species | unidentified seed bug nymph |
There is one reddish lygaeid nymph that I've seen several times and cannot identify. It either changes drastically when it becomes an adult, or it is a species I haven't yet seen full grown. It looks very ant-like and is quite small.