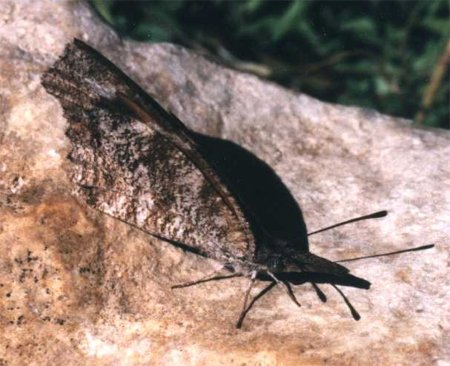 The only butterfly to possess a long projection on the front of its head, the common snout butterfly (Libytheana bachmanii) is the single species of this type to occur regularly north of Mexico. The projecting mouth parts, or palpi, which give the butterflies their name, only resemble a "snout" and don't have a nose on the end. These butterflies are less than two inches long and have slightly orange-colored upper sides to their wings, with brown markings below.

Snout butterflies are quite common in our area, but only under certain conditions. The larvae feed on hackberry and are usually kept in check by predators. When a drought (almost a guarantee around here many years) reduces the numbers of these predators, the caterpillars mature rapidly in large numbers. The adults then emerge with a strong urge to migrate, and this can be quite spectacular as thousands of butterflies fly in tight groups across fields and roads. They look like small leaves blowing in the wind, an appropriate image for late summer to autumn. I made a trip between Austin and San Antonio a couple of years back and the entire area contained one huge group of butterflies after another. They sometimes visit our gardens during early fall, and flutter around in swarms, feeding on native flowering shrubs.

The butterfly in this image is identifiable as a female by having six walking legs, whereas the males of this species have four.