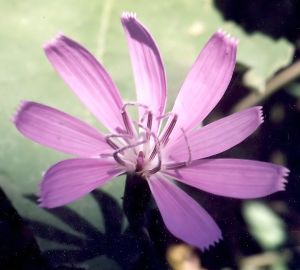 This is one of those native perennials that pops up from nothing, blooms, then disappears for another year. The fact that there are barely any leaves gives the skeleton plant (Lygodesmia texana) its name. I saw these pretty flowers blooming in fields and eventually obtained a small section of the cord-like root. For a couple of years, all that would appear was a thin stem, with no flowers and only one or two thin leaves. Then it would dry up and I would forget all about it. This year, it finally bloomed, one flower at a time, and each blossom only lasted through the morning, wilting by afternoon. There were still no leaves to speak of, just stems. Less than two weeks after blooming and producing seed, the stems died back completely.

As soon as I saw this blossom, the name spider flower came to mind, but it was just because it resembled a dead, curled up spider, even to the point of having 8 petals and stamens. The blossoms sometimes have up to 12 petals. Spider flower is not one of its names, but other names include purple dandelion, milk pink and flowering straw.

Skeleton plant needs full sun and gradually dies if overgrown by taller plants or trees. I suspect that the lack of foliage means the green stems need to do extra duty on photosynthesis and shade certainly doesn't help that.