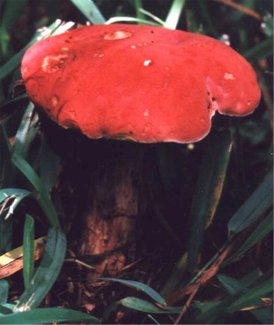 Of the few mushrooms that grow in our yard, the red-capped bolete (Boletus rubricitrinus) is one of the prettiest. Boletes as a group are easily recognized by the fact that they have pores instead of gills on the underside of the cap. Mushrooms are the fruiting bodies of fungi; the main part of the organism lives as a large tangle of filaments called mycelium. It should be noted that mushrooms are not plants; they are in a separate kingdom called the Myceteae.

This particular mushroom occurs only scattered, usually after heavy rains, in both the grass and gardens. The top of its cap is a slightly dull red velvet texture and the stem is light brown and thick. When the stem or underside of the cap is touched, it stains a deep blue color. The mushrooms appear quickly and last for several days, usually sustaining a lot of slug damage eventually.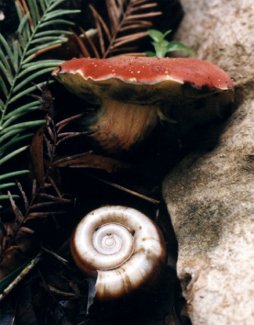 I grew up eating several kinds of wild mushrooms as part of most meals, but that was in Illinois and the species encountered are far different from those here in Texas. I have not personally eaten any of the mushrooms from this area, but this species is supposed to be delicious. It seems, however, that their relative scarcity at any given time would make them impractical for anything but a small garnish with a meal. I'm also aware that different kinds of mushrooms require different cooking and preparation procedures to taste their best, and am not sure how to use these. There are many species of boletes and a lot of them look similar, with differing levels of edibility, so use a good guide book and a lot of caution when experimenting with them. I think I will stick with the Illinois mushrooms that I know much better.