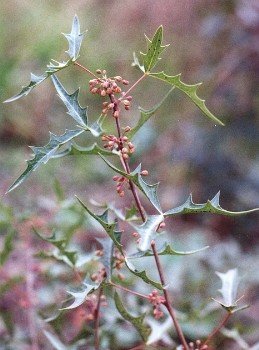 Some plants are so common growing wild around us that I can't bring myself to buy one at a nursery. For several years, I had seen agarita (Berberis trifoliolata) growing and admired its attractive foliage, bright yellow flowers and tiny red berries. It is often found mixed in with many other plants in a tangle of branches and leaves. The first one to actually sprout in our yard was planted by birds and came up in the lawn under one of our trees. It was easily transplanted a couple of feet away into a garden.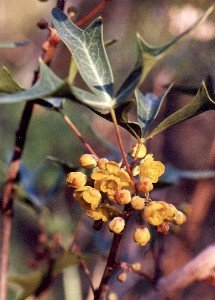 Agarita goes by many different names, including wild currant, Laredo mahonia, barberry, Texas currant, and chaparral berry. It is a small, evergreen, sprawling shrub, never growing very compactly. The leaves resemble those of a graceful holly, and are very stiff and have sharp spines on their edges. The plant grows slowly, but doesn't mind drought and heat. It does, however, mind flooding. A second seedling was doing quite well in another location in our yard and was one year old at the time of some prolonged flooding this past summer. The plant turned a sickly gray color and, when the water abated, was dead.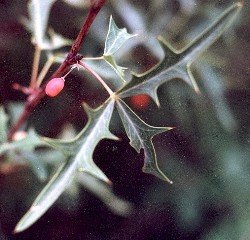 Very few other plants suffered any damage from the rain, but the agarita was a notable exception. The older plant, which is on higher ground, is still healthy, but is only about a foot tall after several years.
The buds form early in the spring, followed by clumps of bright yellow flowers, which are quite attractive to insects. I've never seen large clumps of berries because they are a favorite food of birds and disappear as soon as they are ripe. The berries are edible and are used to make wine and jelly. One interesting use of the plant is as a dye. During World War II, the roots of agarita provided a yellow dye that was used as one hue of color-coded parachutes.