Lace bugs are not uncommon, but they are quite small and often overlooked until the damage they do is apparent on leaves. All lace bugs feed on plants, and if they are numerous, the damage can be enough to affect plant health. They leave black specks which are their droppings. Many lace bugs are host-specific, and when they find suitable habitat, their colonies grow quickly, much like aphids.
| | | |
| --- | --- | --- |
| Corythucha species | Teleonemia species | Teleonemia species and nymphs |
There are at least two different Corythucha species in our area. One is sometimes quite prevalent on our sycamore trees, while the one pictured was not associated with that plant. They are mostly white, with faint brown markings. These insects are 2-3 mm in length, but if magnified, they show an intricate lacy pattern on their wings. The pronotum has a structure that projects forward over the head, creating a "hood."
I've occasionally found Teleonemia species on flowers, either singly or in very small groups. The nymphs have spines that stick out of their bodies, while the adults are rather slender and brown colored. They are not more than 4 mm and usually closer to 3 mm in length.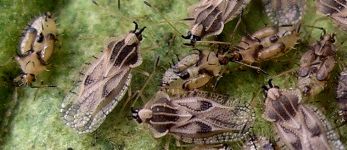 Gargaphia species and nymphs
The most stunning species I've seen is in the genus Gargaphia and was found feeding in groups on Silver-leaf Nightshade (Solanum elaeagnifolium). Sometimes the groups are just adults, but others have nymphs as well. The insects cluster very closely. Adults are about 4 mm long, which is large for this family, and marked with dark brown. They even have distinctive antennae markings: dark tips and bases with light color in between. The nymphs are spiky, with dark markings on tan.