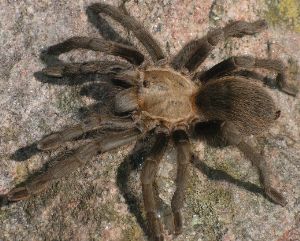 Aphonopelma species female
This is one spider family that presents no identification problem. Tarantulas are our heftiest spiders and just about everyone in this area has seen at least a few wandering about. They sometimes cross highways and are large enough to attract attention. They also turn up in sheds, under boards or other debris, and ambling down the sidewalk. Females reside in burrows and may live for 20 years or more. Males have a much shorter lifespan, the adult part of which is spent seeking and then mating with females.
Although people often imagine that tarantulas are enormous, they are really about 40 mm in length. Their long legs, thick pelt, and stout appearance make them seem humongous. Compared to other spiders, they are startlingly large. However, the captive exotic tarantula species that one sees in zoos and pet stores are frequently bigger than the average individual usually met on the street here in Austin.
Tarantulas are, of course, capable of biting with their large fangs. Their poison is not particularly dangerous to humans, though. Another line of defense is to use their hind legs to brush the hairs on the top of their abdomen. This dislodges the bristles (called urticating hairs), which float up in the air and are capable of irritating the skin or eyes of a large attacker.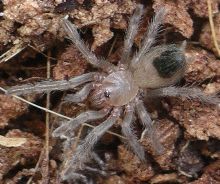 immature Aphonopelma species
There are probably several species of tarantulas in our immediate area; they are all in the genus Aphonopelma and are difficult to distinguish from one another without examining the genitalia of males. These spiders are shades of brown with no patterns or markings. The eyes are in a tight group in the middle of the front of the cephalothorax. The pedipalps are very long and at a glance can look like an extra pair of legs.
The females protect their egg sac within their burrow until the babies hatch. The spiderlings may stay with the mother for a few more days but then disperse. They are pale, with a black patch on the back of their abdomen but, even at a very young age, have the general appearance of the adults.