This small family used to be considered part of the Pentatomidae, but is generally now placed separately. The species are all rather small, ranging from about 4-7 mm. It is easy to place individuals in the family, but often quite difficult to get any further after that with identifications. There is relatively little published on this group and the insects are not generally noticed much.

The most noticeable feature is the scutellum, which overlaps the entire abdomen, hiding the wings almost completely. When one of these bugs wants to fly, they have to lift the scutellum like the trunk of a car to allow the wings to expand. The general shape is always rounded, with a relatively large head. In fact, these bugs are downright cute. They tend to have a lot of little punctures in their upper surfaces, which translate into tiny dots. This helps to give them a matte finish rather than a shiny one.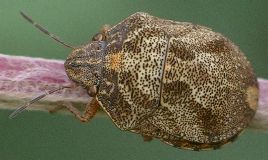 Sphyrocoris obliquus

I've had to do some extrapolating from what information I could gather when it comes to the identifications here, mostly by comparing photos of different insects. There are only a handful of species in our area, which helps narrow it down. The biggest problem is trying to determine how much variability there is within some species.

Shield bugs are often found feeding on seeds, where their general appearance helps with camouflage, but they also show up on leaves and stems. In fact, I've found them on grasses, flowers, and just wandering around on rocks.

The most common species we have is Sphyrocoris obliquus. This is a brown insect, often with a yellowish spot in the center of the front of the pronotum. It can range from very light tan to dark brown. The diagonal markings are fairly consistent but vary in their intensity. Overall length is usually about 6 mm, so it is on the large side for this family.

Homaemus proteus is a bit smaller, but has the most elaborate markings of any of our species. It varies a lot, with black, gray, and white markings that seem to sweep back along its sides in graceful arches. Depending on the amount of black, it might have large black spots towards the rear or on the sides.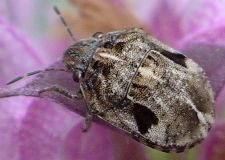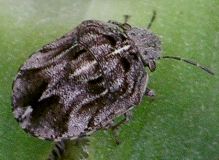 two examples of Homaemus proteus
The most jewel-like shield bug is Diolcus chrysorrhoeus. This is the largest species I've seen here, at about 7 mm in length. Instead of black in the punctures, it has metallic green, most pronounced on the head and front of the pronotum. There are a pair of small black dots on the sides of the scutellum.
| | | |
| --- | --- | --- |
| Diolcus chrysorrhoeus | unidentified shield bug | unidentified shield bug |
I've encountered two other shield bugs that I cannot identify. One is about the same size and look as Sphyrocoris obliquus but has different markings and has a much higher hump to its back, sloping especially quickly at the rear. The other is notable for its dark color, lack of markings, and white line that runs down its back.
Nymphs are not seen all that often, especially compared to those of pentatomids. They have the large head and general egg shape of adults.
| | |
| --- | --- |
| unidentified shield bug nymphs | Camirus species |
One more species I've seen is the smallest so far; it is a tiny black insect in the genus Camirus. The rough texture and minute size make it look a lot like a caterpillar dropping or piece of dirt, but it moves around.