The Pantropical Jumper (Plexippus paykulli) is sometimes very common but not found everywhere. It is medium-sized, at about 8-10 mm in length. Females and very young males look quite similar, but the females remain brown as they grow. The clear white dots on the abdomen are a good identification feature. These dots are also present on young males, which gradually turn more black and white. Mature males often lose the white dots, but they have a handsome black and white pattern that is easy to recognize. Their front pair of legs turns dark too.

Plexippus paykulli
female

Plexippus paykulli
immature male

Plexippus paykulli male
Our two species of Thiodina are relatively common and often found in foliage. Both are about 7-10 mm long, with females and males being very different. Thiodina males have dark olive green abdomens with white stripes and their cephalothoraxes are reddish brown with various white markings and orange highlights. The white marks are what make the species easy to identify: Thiodina sylvana has a round dot between the eyes along with smaller white slashes on the sides of the cephalothorax, while Thiodina puerpera has three large lines. The orange on T. puerpera is found at the front of the face, while it is on the sides of T. sylvana.
| | |
| --- | --- |
| Thiodina sylvana male | Thiodina puerpera male |
Females and immature males of the two species are much more similar in appearance, being quite pale. The most reliable differentiation is in the white "cap" on the cephalothorax. On almost all T. sylvana females, the cap has orange on the sides, which corresponds to the orange on the males, while T. puerpera never seems to have any orange. Also, T. puerpera is often almost pure white on the abdomen while T. sylvana can have darker cream color on some areas. Very young individuals of both species are even harder to tell apart, except that some (maybe young males?) Thiodina sylvana have five distinct black spots on the top of their cephalothorax. These spots look very freaky, like weird black eyes.

Thiodina sylvana female

Thiodina puerpera female

immature
Thiodina sylvana
Several genera of jumping spiders are ant mimics. I have only seen two of these, and they are not at all common or just so small that they are hard to find. I'm not sure how to tell the two Peckhamia species found in Texas apart, but the genus is pretty easy. The Peckhamia species I've seen looks remarkably like an Acrobat Ant (Crematogaster species), with similar colors and even a pointy rear end. It is also not any bigger than an ant, being only about 3-4 mm in length. Most jumping spiders are hairy, but these ant mimics are smooth and shiny, just like their models. Since spiders have eight legs but no antennae, they use one pair of legs to mimic the missing appendages. In the case of Peckhamia species, the SECOND pair of legs are the fake antennae.
| | |
| --- | --- |
| Peckhamia species | Sarinda hentzi female |
The other ant mimic which I've seen is Sarinda hentzi. I've found just one female, and at first mistook her for an ant. Although not as convincing in form as Peckhamia, the movements of this spider add considerably to the masquerade. Sarinda hentzi is not quite so tiny as Peckhamia, and is about 5 mm long. This species uses the FIRST pair of legs to mimic the antennae of an ant.
| | |
| --- | --- |
| Zygoballus rufipes female | Zygoballus rufipes male |
Jumping spiders not only mimic ants, but sometimes beetles. The females of the Hammer-jawed Jumper (Zygoballus rufipes) look just like little gray weevils, and they move like beetles too. In case the reason for mimicking a beetle is not clear, it is because beetles have hard wing covers for protection while spiders are soft, so some predators are presumably deterred by the inconvenience of a crunchy coating. Whatever the reason for the disguise, it seems to work as these are not terribly uncommon spiders. Although the strange square shaped cephalothorax is distinctive on both genders, the male Hammer-jawed Jumpers look quite different from the females. They have pale legs, dark cephalothoraxes, and bronze abdomens with white stripes. The shape of the fangs gives the spiders their name, but I've never been able to get a good look at this feature, as the species is so small (about 3-4 mm long).
The Dimorphic Jumper (Maevia inclemens) has some very pretty color patterns. I've not found a female yet, but the males come in a version that resembles them: generally light colored with red bands on the abdomen. Males can also have all-black bodies, but I've only found those with a black cephalothorax, while the abdomen is red banded. These are not very common, and are medium-sized at about 6 mm in length.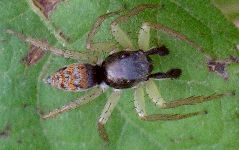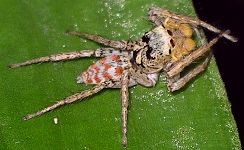 Maevia inclemens males: color variations
The most common jumping spider in our yard and around much of Austin does not even have a common name. Anasaitis canosa is only about 5 mm in length but the white, black and brown markings are so easy to recognize that this one really does become familiar. The white pedipalps especially stand out. Both genders have similar markings, but females that are very large tend to look more faded. This is usually the first species I see in the spring and the most commonly encountered one all summer and fall. I've watched them courting and hunting, mostly on the ground in fallen leaves, but they also climb around our compost bins and on the rock and log borders of our gardens.
| | |
| --- | --- |
| Anasaitis canosa male | Anasaitis canosa females |
The genus Habronattus is represented by several species in our area, and they are all pretty darn small (around 4 mm in length). However, the males have distinctive and attractive patterns. Lack of reference materials makes identifications to species difficult but it is usually possible to at least recognize the genus. The general appearance of Habronattus species is rather compact and chunky, and the third pair of legs is the longest. These are often held close to the body and the knees seem to fold up over the division between the abdomen and cephalothorax. There are other genera that also look similar, which doesn't help in sorting them out.
One species that has been very confusing, and I quite possibly still do not have it right, is Habronattus cognatus. After process of elimination and comparison with all illustrations I could find, this seems the most likely candidate for the black and white striped jumper that I find occasionally. I can not even tell if I've only seen males, but it is likely to be the case because of the strong patterns. Females usually have more subdued brown colors.
| | | |
| --- | --- | --- |
| Habronattus cognatus male | Habronattus fallax male | Habronattus fallax female |
A rather common species is Habronattus fallax. I've found more males of this one which may simply mean the females hide better. Males have very attractive black and white markings and pink on their legs. Females are bigger, with less distinct brown markings that are still similar to the male's. I find these on the ground, either on rocks or leaf litter.
| | |
| --- | --- |
| Habronattus coecatus female | Habronattus coecatus male |
Because females are usually more plainly colored, I often despair of identifying them. However, the females of Habronattus coecatus are not only on the large side for this genus but they have clear markings consisting of three light colored spots on the rear and some blackish bands. This must be a fairly common species, as I've seen it numerous times. The males are more brightly colored, with more black markings, and have hairy front legs.