This is a very small family (3 species in the U.S.) with a very large representative in our area. The Horned Passalus, or Bess Beetle (Odontotaenius disjunctus) is not found very often, as it does not come to lights and usually remains hidden in rotting logs. It is about 35 mm long, and very shiny, a feature which gives it another common name: the Patent Leather Beetle. The middle legs have thick reddish hairs, as if the insect can use them to help shine its snazzy body (I just made that up). There is really no other species that can be confused with this one. The short horn on the head is rather neat looking.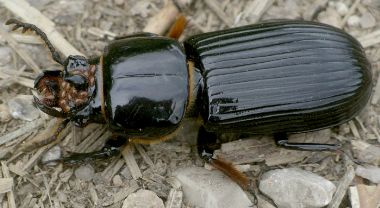 Odontotaenius disjunctus
The larvae and adults live in colonies and are known to communicate with each other by rubbing their body parts together to make various sounds. The individual in the photo has small mites all over its head. They probably do not harm the beetle at all but are just hitching a ride.