As a family, the pirate spiders are a bit difficult to recognize. We probably have at least two common species, both in the genus Mimetus. It is hard to figure out more, as there is so little information easily available that details the differences between species or documents how variable each species is. These are small spiders, ranging around 5-6 mm in length, with a squat appearance and very long, thin, spiny legs. They might be mistaken for spitting spiders because of their light mottled color and long legs, or crab spiders because of their compact bodies and very long first two pairs of legs. Spitting spiders, however, have larger cephalothoraxes, and crab spiders have thicker legs. Some species of lynx spiders can also be confused with pirate spiders because they are wandering hunters with a similar shape.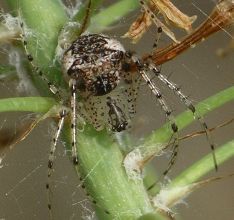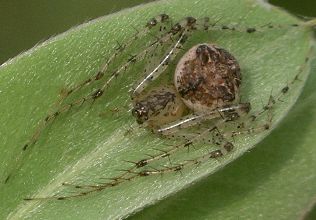 Mimetus species
Pirate spiders are usually found on foliage, but during the winter they hide under rocks. This family gets its name from its feeding habits: pirate spiders infiltrate other spiders' webs and prey on the inhabitants. This practice of entering various kinds of webs was at one time confusing to researchers, who couldn't decide if these spiders make orb or cobwebs. It turns out they don't make webs at all. Although pirate spiders specialize in eating other spiders (they even sometimes steal the paralyzed prey out of wasp nests), they don't hesitate to grab any insect that comes along as well.
Part of the problem in identifying pirate spiders is that they can be found just about anywhere and are not all that common. I have seen them just wandering around on a bucket in our garden, stalking prey in webs, hiding in foliage, and once found one hanging from a bit of silk, obviously drying out after a heavy rainstorm!

Mimetus species
female

Mimetus species male

Mimetus species drying off
The base color of pirate spiders in our area is whitish, with various intricate markings. There are some individuals that have very light markings, and may constitute a different species than the more darkly marked ones. The abdomens are rather humped, with two pointed angles at the front sides. Although difficult to see, the abdomen also has some sparse but stout hairs. The cephalothorax is very smooth and has a dark mark down the center. The legs, besides being very thin and long, tend to bend backwards at some joints. These are slow moving spiders that are more likely to curl up and hide than flee when threatened.