All our species in this family are in the genus Macromia, commonly called river cruisers. As a family, these dragonflies are terribly easy to recognize, but when it comes to determining species, it can be tricky.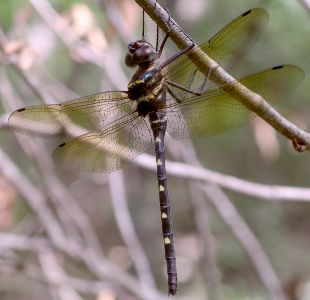 Macromia taeniolata young female
River cruisers are large, have a long black and yellow abdomen, and are most often seen in flight or resting in a vertical position, wings spread out, hanging down from a thin branch. When they are in this position in dappled shade, they become nearly invisible, and will usually allow for close approach if no sudden movements are made. The eyes, which are large and connected at the top, of some species are a magnificent turquoise color and look very jewel-like. The black thorax is marked with yellow stripes and sometimes reflects with dark green iridescence.
None of our local cruisers are very common, but I often find at least one or two every year. Differences between male and female are slight. The cerci (projections at the tip of the abdomen) are prominent in males, while females have very short ones, but the colors on the body are much the same in both genders.
The Royal River Cruiser (Macromia taeniolata) is the largest species, usually topping 8 cm in length. Mature individuals have bright green eyes, but they are brownish in younger insects. Another characteristic is that young adults have wings tinted an amber color. To distinguish this species from others, note that the yellow ring at the base of the abdomen is broken at the top, the front shoulder stripes only reach partway up the thorax, and the abdominal spots are rather small.
| | | |
| --- | --- | --- |
| Macromia taeniolata male | Macromia illinoiensis female | Macromia annulata female |
Even though the Illinois River Cruiser (Macromia illinoiensis) is smaller than the Royal River Cruiser, it is not by much. At a glance they look much the same. Both have green eyes and similar yellow markings on a black body. However, the Illinois River Cruiser, which in our area is a distinct subspecies (M. i. georgina), has a bit of brown at the base of the wings and a complete yellow ring around the base of the abdomen.
The Bronzed River Cruiser (Macromia annulata) differs from the others in several ways. Its eyes are usually gray instead of brilliant green. The thorax is more of a brown color, and the front shoulder stripes extend higher up on the thorax than in the other species mentioned here. The yellow spots on the abdomen are bigger and connect over the top of each segment.