Gerrids are predators that specialize in gliding about on the surface tension of water. This gives them various common names, such as water strider, pond skater, and Jesus bug. It looks like they only have four legs, but that is because the front pair are much shorter and are held close to the head. Water striders use their front legs to capture and hold prey, which can include any small insects they find on the water, as well as spiders.

Unlike many terrestrial bugs, which mate back to back, water striders mate with the male on top of the female, facing in the same direction. This is probably the only way it is physically possible for them to stay afloat, as all bugs that live on the water surface use this position.

While it is easy to recognize a water strider and separate it from any other family of bugs that live on the water, narrowing it down farther is quite a challenge. The references that I've seen give descriptions that are either too vague, don't give enough information, or have conflicting details, especially when it comes to nymphs.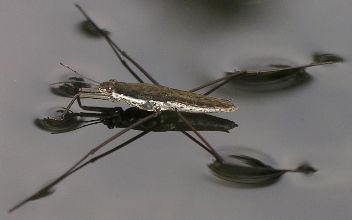 Aquarius remigis
Even after watching the insects in our area, I am still not sure just how many different kinds we have. The largest and most common species is probably Aquarius remigis. This species used to be in the large genus, Gerris. Adults are about 15-18 mm in length and most are wingless. However, some individuals are winged and these fly between bodies of water, especially useful when we have droughts during which ponds and creeks dry up.
| | |
| --- | --- |
| Aquarius remigis mating | Gerris species |
There is another gerrid that is a bit smaller than A. remigis, smoother in texture and more slender. It is probably in the genus Gerris. These insects are less common and have a prominent white stripe on the sides of their abdomen. They come in winged and wingless forms too.
| | |
| --- | --- |
| Aquarius remigis nymph | Trepobates species |
I often find smaller water striders, with very short bodies. The smallest and most boldly marked of these are probably in the genus Trepobates. They also have the shortest bodies. Similar in appearance, but with small differences, such as different markings and a little bit longer abdomen, other small water striders are probably the nymphs of either Aquarius or Gerris. Take this speculation with a grain of salt, as I am not sure about these at all.