The broad-winged damselflies are so named because their wings are shaped just a bit more wide at the bottom. This is a small family and the members are found in wooded areas near streams or rivers. There is not a lot of suitable habitat in our area and so they are only found sporadically.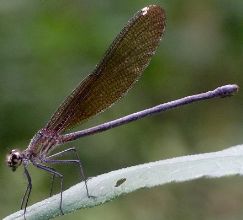 Hetaerina titia female

There are two genera, but I've never seen one of them. The rubyspots, in the genus Hetaerina, are represented by two species here. They are rather large and slender damsels, with color in their wings. The Smoky Rubyspot (Hetaerina titia) can be numerous at times, but not for long periods, and I've only seen it in isolated populations. I've not seen the males and females together, presumably because the females only visit the water in order to mate and lay eggs. The rest of the time, the females seem to hang out in shady areas a short distance from the water, where they perch rather high off the ground in vegetation. Male Smoky Rubyspots tend to gather at suitable ovipositing areas along streams and perch right over the water. Their bodies are a dark metallic green and their wings have varying amounts of black colorations. Sometimes the whole wing is black but frequently there is a clear patch between the tip and base, from small to rather extensive. The pterostigma (small spot near the tip of each wing) can sometimes be white. Females are also dark metallic green, but they also tend to look sort of dusty so that the metallic aspect is not all that evident. Their wings are dark, but more brown than black, often with a white pterostigma.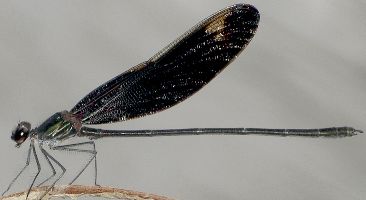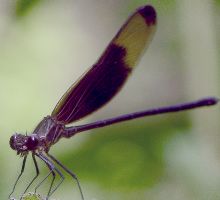 Hetaerina titia males: wing variations
The American Rubyspot (Hetaerina americana) is a much more colorful damselfly than the previous species. The thorax of the male is metallic red with white lines, while the abdomen is metallic green with white. The wings have red at the base and the veins are white, as is the pterostigma. The female also has red at the base of the wings, but it fades gradually into an amber color. The female has the same sorts of markings as the male but has more green on the thorax along with the red. As is usually the case with damselflies, females have thicker abdomens than males. Because of the metallic nature of their colors, these damsels look different in different kinds of lighting, tending to reflect sunlight quite well but appearing more subdued in shade. This might have something to do with their choice of shady streamside habitat.
| | |
| --- | --- |
| Hetaerina americana male | Hetaerina americana female |